Projects
Continuing Civic Projects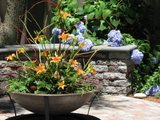 Arbor Day Ceremony and Tree Planting  
Annual tree planting program to educate the community on the importance of trees. Always the last Friday in April!
---
Blue Star Memorial
Highway Blue Star Memorial plaque placed and maintained by garden club members to honor American Armed Forces Veterans.
---
Garden Education Center
Weekly project of placing labeled floral arrangements or plants on display in Moorestown library.
Annual Daffodil Educational Exhibit – also at the library. This year: Monday – Thursday, April 6 – 9, 2020.
---
Garden Therapy Please
Monthly hands-on program for seniors in a local daycare facility and at the Moorestown Rec. Center.
---
Senior Fall/Spring Tour and Tea
Residents of local retirement communities tour areas of seasonal beauty in Moorestown followed by refreshments in a members' home.
---
Junior Garden Club
Educational horticultural program for students in Moorestown High School.
---
Main Street Planters
Club members plant containers located on Main Street seasonally.
---
Garden Club Scholarship
A $1,000 scholarship is awarded to a Moorestown High School graduating senior planning to study horticulture or environmental studies in college.
---
Holiday Wreath Making
Members create wreaths from fresh greens for Moorestown public buildings.
---
PHS Philadelphia International Flower Show
Club participates biennially in the Show's competitive classes.
---
Moorestown Community House Gardens
Members work on preserving, trimming, and restoring gardens at the Community House.
---
Holiday Decorating
Holiday decorating project. Past projects include Drumthwacket, Smithville and Fairmount Park houses.
_____________________________________________________________________________________
Moorestown Township Community Gardens
Aids in the distribution and maintenance of the township garden plots on Camden Ave.
CHRISTINE HARKINSON/The Sun: Those interested in renting plots can contact Carol Ellis by email at cne0821@yahoo.com.