News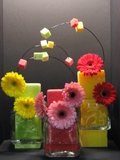 MGC WINS BIG AT THE
PHILADELPHIA FLOWER SHOW!
The MGC team has managed to place First, and win the Blue, in both judgings!!
"Anneke's New World" has also been bestowed the 'Best of The Blues' and a special Rosette Ribbon for Outstanding Balcony!
Not only that, but all of the Balconies in the class received a turquoise Class Commendation Ribbon which means that every Balcony exhibit was judged to be of high standard and outstanding quality. Usually this ribbon is granted when every entry receives at least 90 points or above! So it is a truly a high honor to win first place in a class that earns a commendation!
We are beyond proud of our talented team: D'Arcy Dispirito, Lisa Madera, Gina Zegel, Susan Cunningham, Sigrid Wares, Christine Jacoby, & Midge Ingersoll! Their skill and efforts have paid off royally and these ladies are a true credit to the Moorestown Garden Club!
 Congratulations and Thank You to everyone involved in
"Anneke's New World!"
*************************************      
Evelyn K. Seaton Memorial Gazebo
Awarded Philadelphia Horticulture Society's
Community Greening Award
The Moorestown Garden Club received the Pennsylvania Horticulture Society's Community Greening Award for the Evelyn K. Seaton Memorial Gazebo.
The Pennsylvania Horticultural Society (PHS), evaluated sites for based on plant variety, design, use of space, and horticultural practices.
The Gazebo and garden on Strawbridge Lake is a memorial to one of the Moorestown Garden Clubs's outstanding members. It was established ten years ago from a trust fund created in Evelyn's memory and has been maintained primarily by Evelyn's friends Carol Morgan and Clair Scott along with a few other helpful club members. Plantings include a 'New Dawn' climbing rose and nepeta (catmint) bordering the gazebo.
Moorestown Sun features Article about The Community Gardens!
http://sj.sunne.ws/2013/05/10/community-garden-ready-for-season/
The Moorestown Business Assoc. (MBA)
Joins us in beautifying Main Street!
http://www.moorestownsun.com/2014/06/05/volunteers-clean-main-street-annual-planting/
The Moorestown Sun – MGC Main St. Fall Planters 2017
https://moorestownsun.com/maintaining-main-garden-club-brings-autumn-ambiance-to-moorestown-6a27dafc2f0b